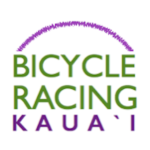 Bicycle Racing Kauai is a not-for-profit hui that organizes road races on the island of Kaua`i in Hawai`i:
Pedal to the Meadow, the USACycling-sanctioned hill race on Memorial weekend;
Cycle on the Strip, criterium races and just-for-fun events at Kauai Raceway Park; and,
The Mana Time Trial, held during the Waimea Town Celebration in February and as part of the Kauai Omnium.
Our mission is to promote bicycle racing on Kaua`i and add some fun for the island's west side community. We buy local (and westside) as much as we can. Entry fees vary by event.

LIKE US
www.facebook.com/BicycleRacingKauai
#BicycleRacingKauai
CONTACT

p2mKauai@gmail.com
M & B Williamson
Bicycle Racing Kauai
PO Box 455, Kalaheo, Hawai`i  USA 96741
TEAM PARTNER
To learn more or join the Honolulu-based Tradewind Cycling Team, which organizes group rides and races, visit the tab on this website:  www.pedaltothemeadow.com/tradewind-cycling-team