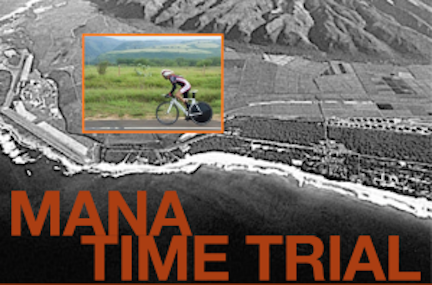 The Mana Time Trial is a competitive bicycle road race for cyclists and triathletes. This 10.8 mile TT starts and ends at MacArthur Park at Kekaha Beach, (Kekaha, Hawaii 96752). This race is an official part of the Waimea Town Celebration * in February and is run again as part of the Kaua`i Omnium on Memorial Weekend in May (day after Pedal to the Meadow.) Park at Kekaha Neighborhood Center and ride over. Open to age 10 and older. Triathletes welcome; aerobars and TT bikes are allowed for this event only.
* For the complete event schedule, visit Waimea Town Celebration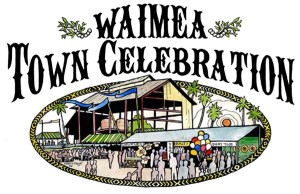 and watch for the insert in The Garden Island newspaper.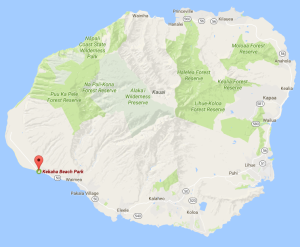 NEXT UP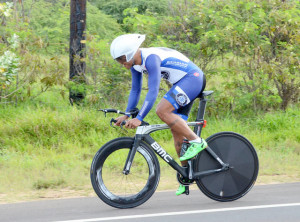 > Sunday, May 27, 2018  — Part 2 of the Kaua`i Omnium
Registration/Fee:  $20 Early/Regular Entry, if received online before May 15, 2018.
$20 Late Entry, at packet pick-up days/times. 
$25 at event.
Annual or one-day USAC license ($10) required.
Categories:
Juniors age 10-19, mixed
Men Cat 1/2/3, age 20+
Men Cat 4/5, age 20+  (this is your category if you don't have annual license.)
Women Cat 1/2/3/4/5, age 20+

 (Race age is your age on 12/31/18)
Prizes:
Prizes (cash or gift certificates) will be awarded for the race series, by race category as follows:
 1st = $30 / 2nd = $20 / Total prize list value by race = $50
Rules:
All USA Cycling Rules apply.
Schedule:
ALL RACERS MUST CHECK IN
7 – 7:30 am — Check-in and walk-in/late registration
7:45 am — Riders meeting and start lining up
8 am — Race starts.  One-minute intervals, by assigned time.
Awards to follow.
Lunch on your own in Waimea town, then head to Kauai Raceway Park to race or watch the Cycle on the Strip Criterium! Learn all about the crit at:  http://pedaltothemeadow.com/cycle-on-the-strip/
RESULTS
February 18, 2018 —  Overall results Feb 2018 Mana TT
May 28, 2017 — On results tab of this website
February 19, 2017 — Mana TT 2.19.17 all results web
> 2019 TBA
To sign up, download this form and mail in or bring completed to the race.   [2019 form TBA]

RECENT EVENT PHOTOS:  visit Facebook — BicycleRacingKauai
MAHALO to 2016 & 2017 sponsor Maui Jim Sunglasses.