Bicycle Racing Kauai & Tradewind Cycling Team Present:
9th Annual PEDAL TO THE MEADOW
Saturday, May 26, 2018
8 am start in Kekaha, Kaua`i
Pedal to the Meadow is the USAC-sanctioned bicycle hill climb race on the island of Kaua`i (Hawai`i), presented by Tradewind Cycling Team and Bicycle Racing Kaua`i. It starts on the west side of the island and climbs along the Waimea Canyon rim up to the Kanaloahuluhulu Meadow in Koke`e State Park. It is a scenic and challenging climb that starts at hot dry sea level and ends deep in the cool wet upland forest of the Garden Island's interior.
DISTANCE & ELEVATION GAIN
15.75 miles,  3,835 feet
START & FINISH
Mass start at Koke`e Road at intersection of the haul cane road in Kekaha, Kaua`i, pole #817.  Open course. Finish in Koke`e State Park near the entrance to Kanaloahuluhulu Meadow, pole #0702. Start and Finish zones are controlled; only cyclists with race numbers may start, enter the coned finish chute and cross the line.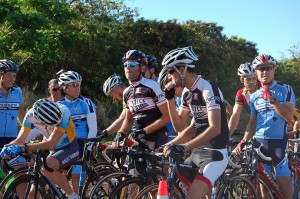 ENTRY FEE
Regular Entry $40, if received online before April 26, 2018. Late Entry $50, accepted up til May 15, 2018. $60 at packet pick-up/walk-in reg.
ELIGIBILITY / LICENSE
A USA Cycling (USAC) license is required for all riders. Riders who do not have an annual license may buy a one-day license during the online registration process or at walk-in registration. All racers must complete and sign a USAC waiver online or in person.
PACKET PICK-UP & WALK-IN REGISTRATION 
All racers are required to receive a race number and have a valid one-day or annual USAC license prior to racing. No race day registration for P2M.
Saturday, May 19
1 – 3 p.m. at Kaua`i Cycle, 934 Kuhio Hwy., Kapa`a (808) 821-2115
Friday, May 25
9 – 11 a.m. at Briggs' Bicycle Shop / Rainbeau Jo's, Lihu`e Industrial Park,  (808) 245-7579
1 – 4 p.m. at Island Ride Kaua`i, Lihu`e, (808) 634-7800
Saturday, May 26, 6:30 – 7 a.m.  Pre-registered repeat racers may pick up packets. NO new sign-ups.

RACE LICENSE:  Those who need to purchase a one-day USAC racing license at late registration must appear in person and sign own waiver. Absolutely no exceptions; plan ahead, cash or check only. It's better to do it online.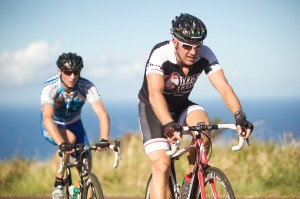 CATEGORIES
Race age = what age will you be on Dec. 31?

Juniors age 10-19, mixed
Men age 20-29
Men age 30-39
Men age 40-49
Men age 50-59
Men age 60-69
Men 70+
Women age 20-29
Women age 30-39
Women age 40-49
Women age 50-59
Women age 60-69
Women age 70+
PRIZES
Cash or gift certificates are awarded by category:
1st = $30
2nd = $20
Total prize list value by race = $50
Top three places in each category are recognized. Subject to change.
RACE DAY TIMETABLE
6:30 am           Race desk opens, top bag drop-off, Kekaha Neighborhood Center  west pavilion
7 a.m.               Volunteer meeting
7:15 am            Race desk closes. All top bags in car.
7:45 am            Riders' Meeting and Line-up, at start line (Kokee Rd. & haul cane road, approx. 0.5 mile from center)
8 am                  Start of Race
11 am                 Course Closes
RULES for P2M hill race
All USA Cycling road racing rules apply for the hill climb. Please familiarize yourself with the rules at www.usacycling.org. Failure to comply can result in a disqualification or the official not allowing you to even start!
Rule highlights:
Each racer must hold a valid USA Cycling Annual License or buy a One-Day License.
NO aerobars, time trial bars or clip-on bars. Plan ahead!

No sleeveless jerseys.
All bikes are subject to safety inspection, must have two working brakes and plugged handlebar ends.
Helmets must be worn and fastened properly at all times when on the bike, even during warm-up. Shoes please.
All racers must obey the Rules of the Road unless directed otherwise by race officials and/or Kauai Police Department officers or volunteers. Please use extra care in one-lane and narrow areas, and at the finish chute.
No headphones, earphones, iPods, MP3 players, or similar devices.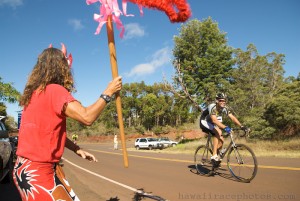 TOP BAG
As weather at the finish can be quite cool and frequently wet, race volunteers will transport a small "top bag" to the finish line. Your bag must be marked clearly with your race number and should be fairly compact. We suggest packing dry warm clothes, comfortable footwear, rain gear/jacket, and your recovery drink mix in the bag. If you plan to ride down later, a small backpack will work well. Alcohol is not allowed in State Parks.
DIRECTIONS TO KEKAHA NEIGHBORHOOD CENTER
From Lihue Airport (LIH):
Exit Airport, proceed straight through stoplight on Ahukini Road to T-junction with main highway (Kuhio Hwy, Rte. 56), turn left and follow west for approximately 30 miles past Tree Tunnel, several towns, and over Waimea River bridge. Once in Kekaha, look for St. Theresa's Catholic Church on the mauka side, and turn right on Amakihi Road. Park near the tennis courts or in the main parking lot—not in west side lot. Check-in is at the west pavilion. The Kekaha Neighborhood Center address is 8130 Elepaio Rd., Kekaha, HI 96752.
START DETAILS
The race will start approximately 0.5 miles north of the Kekaha Neighborhood Center on Koke`e Road, at the intersection of a cane haul road (the former site of the island's first, and for many years only, traffic light), at Pole #817. We will stage riders according to ability to minimize passing.
Gather in the start line area in time for 7:45 am pre-race briefing.
No parking is allowed at the start line area after 7:30 a.m. … Spectators may take Waimea Canyon Drive.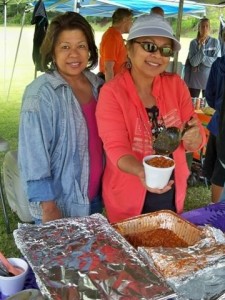 POST RACE PICNIC & AWARDS
The race ends just before the entrance to Kanaloahuluhulu Meadow in Koke`e State Park. Look for the Pedal to the Meadow hospitality area and bike racks by the stone pavilion. That's where we'll deliver top bags and thrown-down bottles.
As has become a race tradition, Kalaheo Cafe's John Ferguson and team are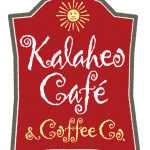 generously providing a hot bowl of chili or stew for racers and volunteers. We'll also have warm beverages and snacks to tide-over those who finish early. Your family and friends are encouraged to pack a picnic or buy lunch from Koke`e Lodge. Enjoy the cool mountain air and don't miss the awards ceremony featuring our Soon-to-be-Famous Podium Divas.
Note:  Cell phone signal in Koke`e State Park is almost nonexistent. A pay phone is located next to the Museum.
TRAINING RIDES & VIDEO
Group training rides are usually held on weekend mornings in February through May. For dates, like and follow us at Facebook — PedalToTheMeadow.
New to P2M? Check out the you-are-there course video on our YouTube channel. Set your trainer in front of your TV/computer/device and follow along from the start line to the mid-way "intersection."  Bicycle Racing Kaua`i channel on You Tube