ENTRY FEE
There is an Early Entry, if received online before April 26, 2018; a Regular Entry, accepted online until a few days before the first packet pick-up (varies by year); and a Walk-in Entry at packet-pick-up dates/times listed on P2M Hill Climb page. There is no race-day registration on Saturday for P2M hill climb, but we take walk-ins for the TT and Crit on Sunday. Flying in too late on Friday for packet pick-up? Make arrangements by emailing p2mKauai@gmail.com. New to the races?–please to come to a packet pick-up for critical information.
Early:  $40 for P2M; $20 for Mana TT; $20 for Criterium
Regular:  $50; $20; $20
Walk-in:  $60; $25; $25
Plus 1-day race license if not a USAC annual license-holder. See below.

REGISTER ONLINE by clicking green button on home page.
If that doesn't work, copy and paste this URL  in your browser–  www.usacycling.org/register/2017   [not yet live for 2018]

ELIGIBILITY
A USA Cycling annual or one-day  license is required for all riders. You may buy a license during the online registration process, or via this link:
WAIVER
All racers are required to complete the USAC rider release waiver form. It is part of the online registration process. If you'll be a walk-in, you may print the waiver, print clearly and bring it with you.
2017 USAC rider release form     [not yet live for 2018]

PACKET PICK-UPS & WALK-IN REGISTRATION
All racers are required to check-in and receive a race number. Packet pick-up dates and times are listed on the 'P2M Hill Climb' tab of this website. KEEP YOUR SATURDAY BIB FOR SUNDAY. RACERS MUST CHECK-IN AGAIN WITHIN HALF HOUR OF TT AND CRITERIUM STARTS.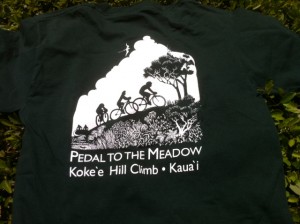 T-SHIRTS
An event shirt is provided to racers who make the early registration cutoff. Extra shirts may be available at packet pick-up and on race days. Mahalo to Kaua`i artist Michelle Dick for donating original art, and Retroglyphs for production.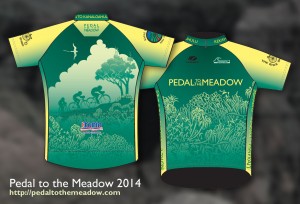 CUSTOM JERSEY
In honor of Pedal to the Meadow's 5th anniversary, we made a jersey. If there is enough interest (25 or more), we can do another order, so spread the word and email p2mKauai@gmail.com. They were Voler club fit in men's and women's styles. We worked with Robert Rekward for production design and Michelle Dick for original art. [design/image is the property of Pedal to the Meadow.] We plan to do another jersey to mark our 10th anniversary in 2019.